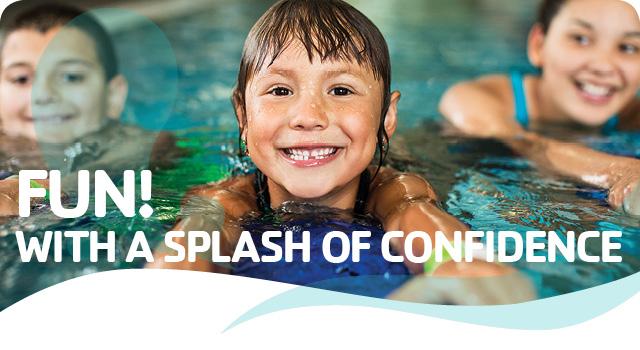 The YMCA has long been America's favorite swimming instructor. Whether just learning how to swim, improving strokes, swimming competitively or taking water exercise classes, members are in safe hands with our certified swimming instructors and lifeguards.
Swimming is a great way to strengthen, tone and condition muscles with little to no pressure or impact that other exercise may cause. Swimming increases muscle strength and tone quicker than many other types of exercises, according to YMCA aquatics directors. Water offers support for joints and bone. As you move into deeper water your body begins to decrease its weight bearing load. In layman's terms, water helps support your weight. When you are immersed up to your neck, your body is only bearing 10 percent of its weight

.
The YMCA of Wayne County offers swimming lessons to every level of swimmer at the Ellen Shapiro Natatorium and the Orrville Branch Natatorium. We also offer SWIM TEAM opportunities for those who wish to swim copetatively as well. To register click the sign up button below.
Don't let program costs stop you from participating,
with
The Every Kid Sports Pass

we have assistance available upon qualification.

     

Click here to see if you qualify!

                   

If you qualify, click here to apply!
Ellen Shapiro Natatorium Aquatics Fitness Schedule
ELLEN SHAPIRO NATATORIUM
Open Swim Hours

Monday          7:00am-7:00pm
Tuesday          9:00am-7:00pm
Wednesday    7:00am-7:00pm
Thursday        9:00am-7:00pm
Friday             7:00am-5:00pm
Saturday       10:00am-2:00pm
Sunday           CLOSED

The Ellen Shapiro Natatorium will be closed in observance of National Holidays.

Swim Meets and Swim Team practices may alter this schedule which is subject to change without notice.
Orrville Branch Aquatics Fitness Schedule
ORRVILLE BRANCH
Natatorium Hours

| | |
| --- | --- |
| Monday | 5:30am-8:45pm |
| Tuesday | 5:30am-8:45pm |
| Wednesday | 5:30am-8:45pm |
| Thursday | 5:30am-8:45pm |
| Friday | 5:30am-6:45pm |
| Saturday | 8:00am-1:45pm |
| Sunday | 1:00am-3:45pm |

SWIM TEAM and SWIM LESSONS

The pool will be CLOSED for open or lap swimming during Swim Team or swim lessons. Parents will not be allowed to remain on the pool deck During Swim Lessons. Swim Meets may alter this schedule which is subject to change without notice.

Mondays

4:00pm-7:30pm

Tuesday

10:00am-12:15pm
4:00pm-7:00pm

Wednesdays

4:00pm-7:30pm

Thursdays

10:00am-12:15pm
  4:00pm-7:00pm

Friday

  4:00pm-7:00pm
Westview Wellness Pool
WELLNESS CENTER
Pool Hours

Monday            3:00pm-7:00pm
Tuesday           7:00am-12:00pm
Wednesday     3:00pm-7:00pm
Thursday         7:00am-12:00pm
Friday               CLOSED
Saturday          10:00am-12:00pm
Sunday             CLOSED